On 15/08/2007 Luanne Gooch went on a trip to the New Zealand Archives in Wellington and located the Ship that Percy Russ came to New Zealand on. "I was thrilled as I have been searching for years and now it seems they have catalogued 1900 onwards. The name of the ship was the "Whakatan". The Master's name was "Sutcliffe"; Port of embarkation was "London". The ship left London on the 9th February 1900 for a voyage of 90 days to Wellington, New Zealand.Percy is listed as ..Russ Mr P ... Gentleman ... a Saloon passenger. The schedule is stamped with The New Zealand Shipping Co Ltd, Henry J Waring & Co, Agents Plymouth"
Using Google, I have found this photo: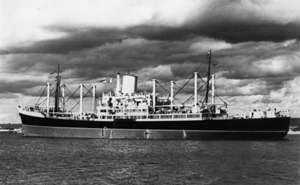 SNOW in CALIFORNIA
SNOW hits Choral Engstrom in California
COUSINS' PARTIES: [if you follow the links, which explain where we all 'fit in', use your Back Arrow key to return to this page!]
19 Sep: Henley: over 60 members of our extended family turned up for a second successful gathering - again by the Thames but organised by Tim Russ and his family, to whom must go all our thanks for a lovely day. This time we had a wider attendance - bringing in not only descendants of all those of Pater's children, who had a family [except William and Albert: - Albert remains tantalisingly elusive: we have his marriage and his son, who died in 1999 but no more] but also descendants of the Scottish branches - through Pater's elder sister Paulina [Winklers] and younger brother Frank Henry. Four of Percy's family relations came all the way from New Zealand. Of Dr Charles' family - Sylvia Joan's side produced the largest turn out, closely followed by Olive's: sadly we were unable to welcome Stan Russ [Mike Russ] from Australia and Linda Green [Connie Russell] through illness and Bernard's descendants were unable to come. A splendid age range from old and sparkly to very young and well behaved: and teenagers who did not seem too baffled by what we were about!
Tim Russ welcomed us all and outlined the programme for the day. Carolyn Findell updated the gathering with alterations to the family tree and a progress report on her grandmother's postcard collection - running from 1902 to the 1950s: a stunning and highly informative collection, which may well be made available on the website in due course. Michael Harte brought three computers - one with a slideshow of all the pictures on the website, a second with slides of the 740 postcards catalogued to date and a third - with scanner - to capture the new material brought to the party and to allow people to see more details of what the website contains.
New material included: a portrait of Pater's sister Pauline, some splendid Indian photos from Emil's side, the earliest postcard in the collection - from New Zealand and, in a throw away remark from Jeremy Russ, a Russ fur is still in existence! A good time was had by all - here's to the next one.
A few photos here
PS. I should have mentioned another 'find': "The Diving Bird - Posthumous poems of Mary Priestley Russ" has come to light: edited by her son John R Russ with a cover by Stephanie Russ. For one example - see 'The Hippsy Primnadon' here
Vancouver: A second report - from Carla McIvor:
We had a fabulous time both days of the reunion. We really enjoyed ourselves. The weather was very hot, luckily on the second day we had planned to be at my sister Trudy Baggett's home where there is a lovely pool. It was put to good use! Although we didn't get as large at turnout as we had hoped I think everyone that attended had a good time and renewed connections. I have some pictures, I'm sure there will be more from others I'll attach a couple now and send more later [see here].
We all enjoyed meeting Charles Russ, what wonderful stories he has. We were disappointed he could not attend the second day.
A first report - from Charles Russ from Vancouver
I did finally decide to attend our local reunion here in Vancouver last night. It began at 7:30 pm, at the lovely home of Gayle and Bob Young, located across the road from a huge dike and panoramic walkway/park by the river mouth. Their home's view is of the waterway looking west to the Georgia Straights. Absolutely breathtaking! Before entering, I watched a small seaplane take off in the channel across from their home. A group of them had gathered in their doorway to welcome me, but I was transfixed with the activity in the waterway!
Gayle(and husband Bob) along with her sisters Trudy Baggett and Carla McIvor and brother Dave Muller (and his wife) are all grandchildren of Carl Godfrey Muller(who was the first grandson born to Mater and Pater and at whose birth Mater was attending when Pater died, I think). The next big entourage to arrive was Laurie (and husband Tom) Brasel, who is well versed in the family history.
We often made reference to a fine photocopy of Carolyn's masterpiece of the family tree which was attached to a very long section of the back fence located in Gayle and Bob's picture perfect yard and of the Family History Website. They both were very much on our minds and in our sharing that evening. I had brought a bouquet of fresh blooms to the evening....mostly butterfly bush blooms, mauve, yellow, dark purple, white, pale blue and every shade of purple/blue imaginable, and they were placed in a vase in a small kitchen nook, meant for two or three people, but at some points in the evening there were many more than that crowded into this small space and enjoying that honey smell that is such a bonus from these elegant blossoms. The obvious question was , were these from my own garden... and the answer was ..."you can visit my garden on our family website" and see some of it for yourself!!!!!
Laurie (a daughter of Rose) along with, I believe, her sister Gladys (and husband) and brother Wes (and his wife) and Laurie's son Glen (and his wife) represented their branch (of Rose's family) very well. They all had travelled from Sacramento, Cal. to attend this "do"!!!).
I had figured out that Laurie, Wes and Gladys were the closest link to myself, personally, as they were full second cousins to me! Wow!!! Gayle, Dave, Trudy and Carla are second cousins, once removed!
Also attending were two children from Sidney William and grandchildren of Carl Godfrey, making them first cousins of Gayle, Trudy, Dave and Carla. They were Laura Robin (who travelled from Ottawa...she is the Travel Editor for the big newspaper there) and her brother Kim (who is living in Sparwood B.C., near the Alberta and American border, working as an engineer in the local mining industry)
What was so amazing to me was that they all knew of A.B.R.[Arthur Bernard Russ - Charles' father - and author of the first family history 'Lady Day Prodigal' in 1989 - MJH] and had visited with him ( and Fifi - his second wife) at one of their beautiful homes(probably Woodwyn Farm). He had acted as solicitor and was executor for four of them (Carl Godfrey being one and three more of his siblings). They remember being very impressed by him and what they saw of his Law offices and home. Even Laurie and Laura had met him, so I didn't need too much of an introduction.
In retrospect, it was kind of them to refer to this gathering as a Russ-Muller Cousin reunion. I was the only Russ representative [well - the only Russ by surname - Mullers are Russes too! - MJH]. Cathy Spence and her husband Brian were a no show, unfortunately[also a Russ - through Ernest]. All of them were Muller family members, and they had had met on quite a few earlier occasions. I was struck by how informed they were about their own grandparents and great grandparents. They had known them and spent quality time with them. What a wonderful legacy for all of them and their own children too. And the star of the evening was definitely Carolyn's masterpiece of the beautifully scripted family tree!!!
Well, this is quite enough for now. No doubt some of them will be sending a report back for the website along with (horrors!!!!) photos of the events (there is another get-together this afternoon at Trudy's home out in the Fraser Valley) which is including more spouses and children....too many people at one event for me, I'm afraid!
Two are planned for 2004 - one in Vancouver and one in Henley.
Details: Vancouver "Gayle, Dave, Trudy, and Carla McIvor would like to host a cousin party in Vancouver on July 23 and 24th, 2004. We extend this invitation to all of the descendents of the Russ/Muller family. We are planning an adult only reception at the home of my sister Gayle Young on Friday, July 23 and a family barbeque at the home of my other sister Trudy on Saturday July 24, 2004. We have lots of ideas for extra side trips during your visit, i.e. trip to UVIC to view the Muller bible, trip to Whistler (home of the 2010 Winter Olympics), Sunshine Coast excursion, Vancouver Island excursion etc.etc." Contact Carla by e-mail
Henley: 19 September - 12:00 - 15:30 at the Leichlinger Pavilion Henley-on-Thames. refreshemnts and a light lunch [at cost!] Children welcome. We hope to have some results from the analysis of the Russ Postcard collection; the family tree has several new branches - and twigs; and the website will also be available on laptops for those who have not got internet access. More details from Tim Russ
POSTCARD ARCHIVE
Carolyn (Findell), who researched and devised the calligraphic RUSS family tree for the cousin gathering in 2001, is now launching into another major project for the Russ archives. Carolyn is the granddaughter of Frederick, the eleventh child of Charles and Emily (Pater & Mater). Frederick's wife, Helen Caroline nee Bliss, whom he married in 1910, began a post card collection in 1903 when it was 'all the rage'. This collection came to Carolyn in two shoe boxes which she eventually took a look at and sorted into chronological order over ten years ago; it amounts to over 600 postcards!
The bulk of the collection dates from 1903 to 1939, with the majority of these being to and from most of the members of the family between 1903 and 1917. The information which these missives provide includes handwriting, location (e.g. visiting Germany), addresses, social customs, and pastimes; for example, we have the evidence for the classic occasion when an invitation is posted in the morning for dinner that evening.
Carolyn is now beginning the task of cataloguing the collection, including images of both the front and back of each card, so that it can be shared with the rest of the family via the website. Are there postcards in other family archives which could be added to this website catalogue? Cousins have already sent welcome additions, e.g. from Ernest's collection. Any postcards sent to Carolyn on loan for inclusion in the catalogue would be returned on completion of the project. Such additions could provide all sorts of extra clues and information, making the jigsaw puzzle ever more complete. Carolyn hopes to have completed the bulk of this task within the year so that the results can be shown to the proposed cousin gathering in September 2004 - but it is a sizable project, and fascinating for the amateur sleuth!
Please could anyone who would like to contribute to this archive contact Carolyn, or Michael Harte, (who is helping on the technical side), via the website, by email or post to Greenman Farm, Wadhurst, Sussex, TN5 6LE Thank you.
1 Aug 2003: Choral Engstrom [richddchoral@earthlink.net] has just e-mailed: "My Mother passed away yesterday afternoon Dorothy Amy Dicker February 4, 1912 - July 31, 2003 She lived to age 91. Born in Brandon, Manitoba Canada, she was the 11th of 12 children. She was a talented artist, working in watercolor and pastel medias. She was often described as, "Quite a Lady." & "Very Lady-like." as she enjoyed dressing up and serving afternoon tea in her bone china tea cup collection. She lived in Spokane, Washington."
Family News
May 2003: Cousins' party at Greenman Farm Wadhurst - to meet new second cousin Mick Russ and his wife Ann; John Cole, Gerry Fisher, Carolyn Findell, Rosemary Short and Michael & Claire Harte were there. Luanne & Kevin Gooch also came from New Zealand. Glorious weather - entertainment provided by the chickens. And WELCOME to Nigel John HOWSE born 11 Jan 2003.
15 Apr 2003: Andrew Murray has e-mailed me: "This morning I returned from a holiday in Malta. During the time I spent there, I visited the CAPUCCINI Naval Cemetery and specifically the grave of William Rudolf Center. (Although the lettering is very faded on the gravestone, it can still be read, and I was very pleased to be able to find it.) I am related to William Center and have been researching my family tree. I was delighted to learn more about Zoe Center and to see a photograph of her. I was curious to know whether she and William Center had had any children as I think William Center was an only child, and your website has answered that question. I have a copy of a newpaper cutting about the death of William Center including a faded picture of him. Do you know of any other pictures of him, and indeed of any other information. I would be very grateful for any help you can give me. I'll happily swap any information with you if you are interested." Another success from the website!
23 Feb 2003: John Cole visited the CWGC cemetery at Reichswald Forest, near Kleve, Germany, where his Uncle Mike Russ is buried - site 3A6 exactly as specified in the CWGC information provided on the Russ website. It was a fine day and he took several photographs of the cemetery as well as of the S.M.Russ gravestone. In the bright light it was difficult to photograph the carved inscription, but with a bit of work on the contrast setting he achieved a fair result: a close-up of his gravestone, adjacent memorials and the main memorial in the centre of the cemetery are here. He is sending copies of all photos taken at Reichswald to Stan Russ in Australia, together with a list of the other Australians in Row 3A, all of whom died on on 5th May 1943, presumably in the same sortie. The Commonwealth War Graves Commission also sent John a well-produced four-page leaflet about the Reichswald cemetery, which will also go to Stan. The cemetery has 7654 graves in total, of which 3985 are Air Force, including 705 Canadian, 328 Australian and 127 New Zealand.
12 Jan 2003: Mikaela GROENEVELD added - born 5 Dec 2002
December 2002: extensive research in the Public Records Office - on my FOXELL and HARTE relations: results added to Family Tree
23 Nov 2002: Tyler Takeshi WALLIS, son of Richard William and Tammy Lynne WALLIS born in Vancouver BC
Welcome!

Update on progress from last meeting

John Cole's trip to Australia/NZ

Carolyn Findell: postcard collection

Ron & Gerry Fisher: London leads

Michael Harte:

Mater's Day Book and CCGR's Will

Frances Gordon

F H Russ III

the Winklers

Ernest Russell - photos

Charles Russ [Vancouver] - photos

What Next:

Close

Gerry Fisher, John Cole, MJH
Contacts with Winklers, F H Russ and Australian/NZ relations
Photos for website
CJF could not come
Photos of Northampton Sq coming
MJH

analysis on website
family details now on site
contact made - hopefully photos may follow
contact made - photos on site and more material to come
more material to be gone through - more pictures on site

Work still to be done
What Next:

Apprenticeship research - now done
has anyone ideas?
ditto!
Hugh Winkler has promised to provide

MJH to meet CJF on 12/13 Sept for further work
6 and 7 July 2002: A cousins' gathering in Spokane - at Chuck and Gale O'Connor's home in Spokane Washington - photos to follow; corrections to the data base added and the following members of our family added: Leah Noel Poler born 1 Apr 2002; Jasper David Eaton born 10 Jun 2002 and Analie Jaid Eschenbacher born 20 Feb 2002
18 Apr 2002: For the christening of her great nephew Jack, Carolyn Findell reported that they used the christening shawl from her grandmother Helen BLISS; they also have a Russell family shawl. She wondered if anyone knows of a RUSS shawl to add to the 'collection'. Any ideas out there?
14 Apr 2002: Alice Ruth RUSSELL born 4 March 2002 added to the tree: congratulations to Ruth and Rob. Only the third Alice on the site
| | |
| --- | --- |
| | 7 Apr 2002: Sylvia Joan Russell died in hospital aged 84. She was the youngest - and last surviving - child of Dr Charles Russ. Her letter to her brother Arthur Bernard Russ in Canada about life in Crowborough in the early years of the Second World War was quoted extensively by Dean King in his biography of Patrick O'Brian - the full text is now on the website here; shortly after writing it she joined the Women's Auxiliary Air Force. |
4 Mar 2002: Family trees for F H Russ and Hermann Edard Richard Winkler have now been added to the site and useful contacts made with both sides. Until we find Albert Russ - or go back further in Germany, there are unlikely to be major additions to this for a while so I have printed out - for my own amusement - a complete tree from Christian Karl Gottfried Russ's unknown parents. It runs to 48 feet! And that was printing it out in 6pt type, so that all generations fit on a landscape A4.
There is a lot of missing data, for which help is needed: we have 1072 people with surnames and first names [of which 7 have first initials only]; 23 entered as ChildX; 41 as UNKNOWN, 37 as UNKNOWN, X and 40 as X, Unknown [mostly wives, where only their first names are known] Top 20 first names are John 25 Charles 23 Thomas 20 Robert 18 David 16 James 15 Mary/Marie 15 William 14 Richard 12 Elizabeth 10 Frank 9 Dorothy 8 Emily 8 Michael 8 Christopher 7 Helen 7 Kathleen 7 Margaret 7 Paul 7 Sarah 7. The 1109 people with first names have 564 different ones! And there are 338 surnames.
24 Feb 2002: Real progress on the families of Frank Henry Russ and Pauline Russ - siblings of Christian Carl Gottfried Russ. The letters to Scotland have resulted in contact with descendants of both and links to the Russ & Winkler fur business in Edinburgh. Family trees for both will be available shortly and the first bunch of Winkler photos are now on the website. From one, there is evidence of a New Zealand connection - action from the Russ families there?
20 Feb 2002: Louie Burton Russ: progress is being made in finding out more about her and her grandfather Frank Henry Russ. We have a copy of her will, which gives addresses of 56 people to whom she left money or personal possessions including the "opal and diamond brooch belonging to Granny Russ". MJH has written to 28 of these, who appear to be living at or near the same address as in 1989. These include a Frank Henry Russ in Savoy Illinois, and an Elizabeth P Russ Winkler of Glasgow, who also received Granny Russ's 18 carat lady's gold watch. We may be on the track of Russ & Winkler furriers of Edinburgh.
30 Jan 2002: Frank Henry Russ: We now have his death certificate. This clearly places him as the younger brother of CCGR and NOT - as Dean King has it [p 10] - his cousin. The certificate reads: "Manufacturing Furrier (married to Mercy Ann Burton) died at 9:35 pm at 35 Newark Drive, Pollokshields aged 41. Father: Christian Karl Gottfried Russ - Manufacturing Furrier (deceased) Mother: Fredericka Wilhelmina Sophie Russ - maiden name von Rudiger (deceased). Cause of death: Disease of liver; congestion of lungs. Informant - Ada Russ daughter [by implication also residing at 35 Newark Drive]"
This is interesting for all sorts of reasons. It confirms FHR's position in the family tree; it gives a different name for his wife Mercy Ann BURTON - we have previously had Mercy Anne BUNKER from a scrap of paper in Carolyn's collection and the 1881 Census shows her as Mary Ann RUSS [and head of household - so FHR was absent on the census date]. The certificate provides evidence that the family had moved from Lenzie Rd Kirkintilloch to central Glasgow some time between 1881 and 1888. It raises the interesting question why the eldest daughter Ann [then aged 17] was accepted as the informant of death - rather than her mother [clearly alive at that date, as FHR is shown as 'married' not 'widower']. Finally, it offers more circumstantial evidence that Mercy Ann was the grandmother of Louie Burton RUSS - and therefore that Louie's father Arthur Rudiger RUSS was Mercy's fifth child and born after the 1881 Census. And what about Fredericka Wilhelmina? We now have the added name Sophie AND a von!
24 Oct 2001: Katie Kelly [Harland] has a second son Jack David